Christmas .
Christmas, a time of enchantment and togetherness, takes on an extra sprinkle of joy with the presence of popcorn. As we gather by the fire and exchange gifts, a bowl of popcorn becomes a shared delight, weaving the simple pleasure of this snack into the tapestry of our festive traditions. Christmas is a celebration where the small joys, like the crunch of popcorn between friends and family, add the perfect seasoning to the festive air.
Premium

Mini Cones .

Spread Christmas joy with this case of 40 snack-sized Mini Popcorn Cones. These delicious treats feature our popular flavor assortment; perfect for giving individually or as a Christmas party snack.

Buy Now
Christmas Favorites.
Our best selling gifts for the Christmas season
Shop Deals
Cyber Monday Deal .
20% Off Gourmet Popcorn Tins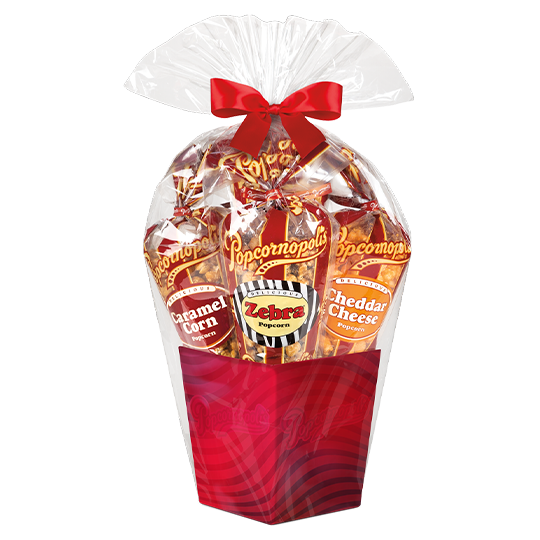 Gift Baskets .
Celebrate the Christmas holiday with our Popcorn Gift Baskets. Overflowing with flavors that evoke the enchantment of winter festivities, it's a delightful way to share warmth and joy. Let the Christmas season's magic unfold with every crunchy, delicious bite.
Buy Now
Christmas Gifts.
Find the right gift at the right price this Christmas season
2-Gallon Tin for your Christmas Occasions .
Wrap up the spirit of Christmas with our Popcorn Tins. These festive tins are filled with a medley of flavors that'll make your heart sing. Share the joy of the season, one delicious handful at a time.
Buy Tin
Idea 1 .
Thoughtful Gifts
A thoughtful gift is a heartfelt gesture that shows you care, chosen with the recipient's interests and happiness in mind. Consider sharing a universally enjoyed and versatile gift that reminds them of the Christmas season.
Shop Gifts
Idea 2 .
Christmas Party Must-Haves
At your heartwarming gatherings where friends and family come together to share laughter, create cherished memories, and spread festive cheer, consider serving this crowd-pleasing, easy to serve snack.
Shop Popcorn
Idea 3 .
Stocking Stuffer
Tuck a small and delightful surprise into their Christmas stocking this year. These popcorn treasures will add extra excitement and anticipation to their Christmas morning.
Shop Mini Cones
Idea 4 .
Corporate Gifts
Give popcorn as a thoughtful token of appreciation to your valued business to clients, employees, partners, or associates this Christmas season.
Shop Corp Gifts
Idea 5 .
Office Party Treats
A holiday office party is an opportunity to foster camaraderie and appreciation among colleagues. Share this versatile and nostalgic popcorn. It's sure to please even your pickiest coworkers.
Shop Cones
Idea 6 .
Gift Decoration
Mini cones add a yummy layer of thoughtfulness and excitement to all gifts making them truly special.
Shop Cones
Idea 7 .
Host or Hostess Gift
Give a thoughtful gesture of appreciation and gratitude to the person who has graciously welcomed you into their home this Christmas season.
Buy Host Gift
Idea 8 .
Classroom Party Favors
Give a heartwarming token of holiday spirit. Help them express friendship and celebrate the season of giving together.
Shop Treats
Create Your Own Cone Assortment .
Embrace the Christmas holiday spirit with our popcorn cones. Create your own flavor-packed assortment, making it a unique gift for Christmas and other seasonal celebrations. Share the magic of the holidays, one mini cone at a time. It's the perfect way to add a sprinkle of joy to the season.
Buy Now
Flavors.
Our best selling flavors
Can't Decide? Try our
Premium

Mini Cone Assortment .

Premium mini cone assortment is an easy-to-share gift that will delight friends and family of all ages. Say hello to hassle-free holiday fun. Grab these crowd-pleasing treats and be the person everyone remembers this Christmas season.

Buy now